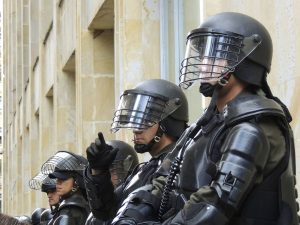 A Risk Management Update
There seems to be a growing number of protects and civil disobedience these days. For whatever the reason for the protests, it does create a risk for your business. Your business insurance is designed to protect your business from unknown claims or accidents. Our job is to be your business insurance resource and to provide you with the best combination of coverage, price, and service. A commercial liability policy can protect your company from actions by yourself and employees if a third party is damaged or injured.
Are Riots A Covered Loss?
Generally speaking, damage to your building and other property due a riot is a covered peril. This would include fire, theft, and vandalism. If you were forced to close your business by civil authority but had no building damage you may be able to collect for lost revenue, depending on how your policy is written. Remember, each policy is unique, so call our office for a review.
What If The Fire Department Refuses To Put Out The Fire?
Insurance companies generally will not deny a claim because the fire department pulled back for safety reasons. If civil authorities limit or restrict access to a burning building, your insurance will not be jeopardized.
Final Thoughts
Business insurance is designed to protect your business from accidents and other unforeseen events. Many of the damaged businesses had insurance, and those that did not will most likely have to close their doors.