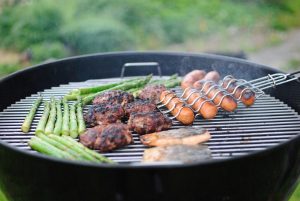 A Personal Insurance and Safety Update
There are many good reasons to have homeowner's or renter's insurance, and here are a few more.
In 2019, 18,500 people went to emergency rooms because of barbeque related accidents.  Sixteen percent of home structure fires involving a grill were caused during ignition because something flammable was too close to the grill.  Twenty percent of all reported grill fires were a result of leaks or breaks.  Gas grills account for more home fires overall than do charcoal grills.  Emergency rooms see the use of gasoline on a charcoal grill as the most common error associated with burn cases.
You might think you know all you need to know about barbeque safety and grilling, but here are some reminders.  We want your grilling experience to be fun and safe for the entire family.
General Grilling Safety
Never barbeque inside, in a garage, on the roof, or on a second story deck.
Never leave your grill unattended.
If you are using a charcoal grill, let the lighter fluid soak into the coals a few minutes before lighting them so that any vapors have time to evaporate.  When you do light the coals, stand back.
Do not use lighter fluid on hot coals.
Open the grill lid before you light it
Do not wear loose fitting clothing.
Keep an extinguisher outside or close by.
Make sure you use the grill 10 feet away from your house.
Use the grill close to a water source.
Do not let raw meat sit out too long without being chilled or cooked.
Always wash your hands before and after handling food.
Do not over-indulge in alcohol while barbecuing.
We are committed to providing clients with the highest quality insurance plans available combined with some of the lowest possible rates. Whether you are shopping for auto insurance, home insurance, life or business insurance, we can help you obtain the best coverage available with the lowest rate possible.